We offer conference rooms with a capacity of 30 to 350 people. We are talking about rooms which are fully equipped with the most up-to-date audiovisual media, ideal for conferences, events, trainings, or meetings with clients.
Our multi-purpose venues are ideal for outside-of-the-capital or overseas companies, for meetings with clients in Athens. The conference rooms can be set up according to the desires and special needs of each Conference, for its more smooth and functional conducting, and the seminar rooms are available for lease or rent, at an hourly or daily rate.
07
NEWS AND ARTICLES
Πολύτιμο εργαλείο για τα δημόσια ταμεία αποδεικνύεται η «Χρυσή Βίζα», αφού μέσα σε λίγα χρόνια λειτουργίας η ζήτηση έχει εκτιναχθεί από τις 400 βίζες ετησίως, στις 50 αιτήσεις καθημερινά αποφέροντας έσοδα άνω των 1,5 δισ. ευρώ. Με μια επένδυση σε ακίνητα αξίας από 250.000 ευρώ και άνω, οι πολίτες εκτός ΕΕ έχουν την ευκαιρία να εξασφαλίσουν άδεια παραμονής στην Ελλάδα,…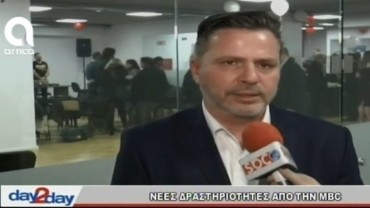 Η ομάδα του MBC business center εγκαινιάζει τους νέους της χώρους στη Λεωφ. Συγγρού 106 και κόβει την Πρωτοχρονιάτικη πίτα.
Αλλαγές στον φόρο μεταβίβασης ακινήτων έρχονται από την 1η Ιανουαρίου 2019. Αλλαγές στον φόρο μεταβίβασης ακινήτων έρχονται από την 1η Ιανουαρίου 2019 της αναπροσαρμογής των τιμών ζώνης που θα ισχύουν και τις νέες αντικειμενικές αξίες που προκύπτουν με αποτέλεσμα σε κάποιες περιοχές να αυξάνονται, σε κάποιες να μειώνονται, ενώ σε ορισμένες παραμένουν αμετάβλητες. Φέτος οι νέες αντικειμενικές τιμές εφαρμόζονται φέτος…
We have created a beautiful and pleasant environment, providing you with all the necessary professional services.
MBC – PROFESSIONAL MULTI-VENUES
Multi-venue Athens, 106 Andreas Sygrou Ave.
Multi-venue Athens, George 9 Cannigos Square
Multi-venue Glifada, 227 Dimitriou Gounari
Phones: +30 2109639049 +30 2109639050
Email: info@mbc.gr